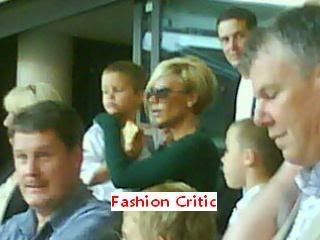 I was
VERY
excited to see Victoria was at the England vs. Brazil game tonight. I was close enough to her to get this picture on my camera phone. I am cursing myself that I did not take my proper camera but I really did not think I would be so luck to be this close. I mean what are the chances that I would see her in a 90,000 seater stadium? I thought none, but I was wrong.
I was sitting in the Club Wembley seats and she was in the VIP seats behind me to the right. All her kids were there and they were very excited to see their dad playing and would often wave to try to get his attention which was very cute.
Victoria is
very
skinny in the flesh, more skinner than she looks in photos which is disturbing.
A lot of people were shoving cameras in her face which was a tad rude at times so I just took this one very quickly. She seems a little annoyed and could be heard tutting at some peoples intrusion and aggression towards her and I felt sorry for her.
I hope the next time I see her I will have my proper camera and not a dodgy camera phone and I hope I am in the picture with her.
Fingers crossed.