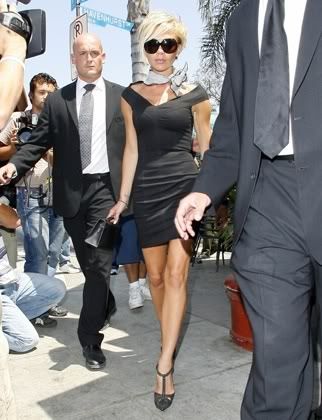 Even her getting a cup of French Columbian is an event in her life which needs the worlds press following her.
Here she is on Monday afternoon at the Coffee Bean and Tea Leaf on Sunset Boulevard in Los Angeles with her hairstylist pal Ben Cooke, who is getting too close with the touchy feely. I wonder how Mr. Beckham feels about his hands-on approach?
Prior to her coffee run, Victoria was wearing this belted purple minidress as she stops at an office building on Monday in Hollywood, Calif. It's rumored that her LA-based lawyer has an office in the building.
Source
&
Source