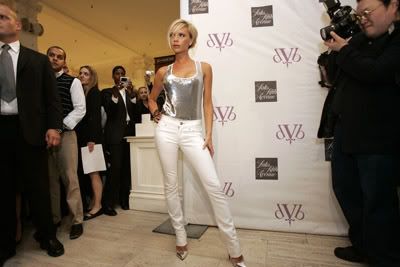 Prior to Victoria's Saks clothing launch in which reader Emma was lucky enough to meet Mrs Beckham,
Style.com
caught up with the Victoria. They said she was surprisingly approachable and happy to discuss her personal couture collection, what inspires her, and why she won't be doing a runway show anytime soon.
How does it feel to be designing?
I couldn't be the best singer, dancer, actress, but I'm actually good at this. I'm fanatical about rivets and things that most people don't even pay attention to.

What do you think every girl should have in her wardrobe?
The reason that I started on denim is that every girl should have a good pair of jeans.
Do you aspire to have a fashion show one day?
I'd love to. But I'd have to come out with more than just jeans, or there would be a lot of toplessness going on.
What item do you still wear that has been in your wardrobe the longest?
A Dolce & Gabbana pinstripe corset dress that I bought when I first got together with the Spice Girls, so it's actually vintage now. And I've also got some vintage James Galanos, Claude Montana, Azzedine Alaïa, and Thierry Mugler.
With Alaïa you can't really go wrong.
He's genius. I get along very, very well with him. This year my husband took me to Paris as a surprise, and he took me to the Alaïa showroom, where I was fitted for a dress. That was great.
Have you learned anything new in the design process that you didn't know before?
How quickly you have to think ahead. I get inspiration from everywhere and everything—it's not always fabrics. I found these genius lilac trees when I was in L.A., and I took photos of them and sent them on to people. Everyone got pictures of these trees and was like, "What's going on?" You never know where you're going to get your inspiration from.
-Sarah Cristobal, Style.com
Source
&
Source