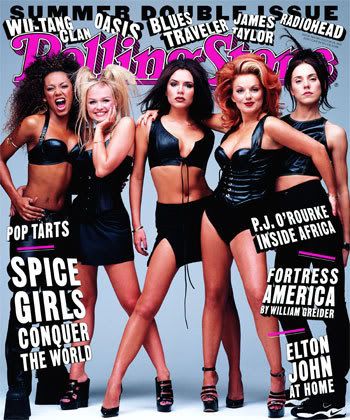 THE Spice Girls have finally signed up for a reunion world tour - for which they will pocket £10MILLION apiece.
The decision took so long because Mel C was very reluctant to agree and apparently it was fan power that made her reconsider, as she did not want to be seen as the party pooper.
The tour is said to start in London. After the London Posh, Geri, Emma, Mel B and Mel C will then travel all over Europe, the Far East, America and the Middle East for the remaining 24 dates through to the end of January.
We should expect a new single and a re-release greatest hits album.
All this is speculation right now, so I will write the facts later after the official announcement.
THE GIRLS TODAYGINGER
Name: Geri Halliwell
Age: 34
Marital status: Single
Children: Daughter Bluebell, aged one, from brief relationship with British scriptwriter Sacha Gervasi
Lives: London
Worth: Around £18m
SPORTY
Name: Melanie Chisholm
Age: 33
Marital status: Lives with builder boyfriend Thomas Starr
Children: None
Lives: London and Wales
Worth: Around £13m
SCARY
Name: Melanie Brown
Age: 32
Marital status: Divorced
Children: Daughters Phoenix Chi, 8, by Jimmy Gulzar, and Angel Iris, 3 months, allegedly by actor Eddie Murphy
Lives: Los Angeles
Worth: Around £10m
POSH
Name: Victoria Beckham
Age: 33
Marital status: Wed to David Beckham
Children: Brooklyn, 8, Romeo, 4, Cruz, 2
Lives: Hertfordshire, Madrid and LA
Worth: Combined fortune of £130m
BABY
Name: Emma Bunton
Age: 31
Marital status: Lives with Jade Jones, her boyfriend for the past 8 years
Children: Expecting first baby next month
Lives: Hertfordshire
Worth: Around £10m
Source