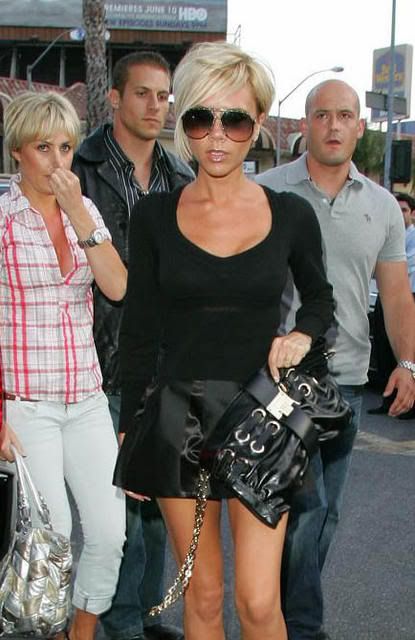 Victoria Beckham did not sleep off her jet-lag when she arrived in LA. Instead she met up with her Spice Girl pal Melanie Brown at the Saddle Ranch on the Sunset Strip. Also in attendance was British model pal Paul Sculfor (who is apparently Jennifer Aniston's new man).
Both Victoria and Melanie who also lives in LA, cheered a friend on as she rode the mechanical bull at the Saddle Ranch. I wonder if Victoria had a go. Na I don't think so either. But I am glad to she her having fun here.
Victoria wore all black cardigan and a super short skirt. She finished off her look with a pair of peep-toe ankle boots and a
Jimmy Choo Rio Oversize Clutch
. I guess she got tired of her other
Jimmy Choo Clutch
which she has in white and black. God I envy her wardrobe.
Notice in a few of the photos below she has a Rocawear poster in the background, which is quite ironic considering she used to model for the brand. The other thing to notice is that the female bodyguard (lady with the dark hair) is slightly dressed up with the earrings and make-up. Looks like Victoria's good influence is rubbing off on her.
Source
&
Source