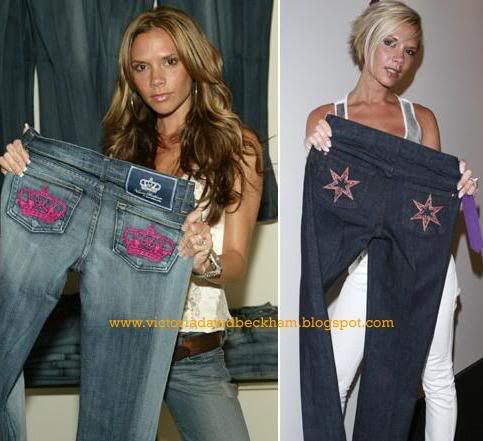 An almighty row has erupted during which Victoria Beckham has been stripped of her crown.
The former Spice Girl, who prefers to think of herself as footballing royalty, signed a deal with Rock and Republic jeans two years ago to create an exclusive line in her name, distinguishable by the embroidered crown logo on the back pocket.
In 2006 Victoria terminated the partnership, having decided to launch her own range, VB, and charge nearly twice the amount for the denims.
By all appearances the split was amicable, but I hear that a secret battle has, in fact, been raging away over the crown logo, which Victoria wanted to take with her.
"Rock and Republic refused to let her use it and have retained the crown for their own new range, Crown Denims, which has incensed Victoria," I'm told.
Rock and Republic's UK distributor, Robert de Keyser of Dekeyser Fashions, refuses to bite his tongue.
"The new Beckham range appears to be seriously overpriced for a line which is made, unlike other premium denims, in China," he tells me.
"Whatever Victoria learned about denim from working with Rock and Republic appears to have been lost, ironically, in her move to LA with her husband."
Since the Saks Launch there have been stories that Victoria was fired by Rock Republic for her lack of professionalism.
Sources close to the company claim that cooperation with Victoria was terrible. She was indecisive and inconsistent in her work, and besides that, she is never around. She wants her name to be connected to the new clothing line, but does not want to work at all, unless of course, there is a camera somewhere close by.
Ouch! Bitter me thinks. But I will agree that looking at the jeans side by side that Rock Republic does look far superior in quality.
Source