Here are some pictures of the Beckham's taken before their trip to New York.
Victoria Beckham was the chicest soccer mom on the sidelines wearing her dVb aviators, chic black top and her dVb jeans whilst balancing on grass wearing
Christian Louboutin
heels.
David was dressed down in a plain white T-shirt, grey tracksuit bottoms and shades. He watched impassively while Victoria gave direction to her boys.
In other news Tana Ramsay has turned to best friend Victoria Beckham for support in the wake of allegations of husband Gordon Ramsay's affair.
A source revealed that the wife of the celebrity chef has been making tearful phone calls to Victoria, with whom she has become close in recent years.
Tana is said to have told friends that Victoria has given her the strength to face the world after Sarah Symonds claimed to have had a seven-year affair with Gordon. Victoria reportedly said to Tana:
'I'm here for you day or night, whenever you need to talk.'
A close source revealed how Victoria has been a 'tower of strength' to Tana.
Victoria also helped Cheryl Cole when her husband cheated on her.
What a great friend she is.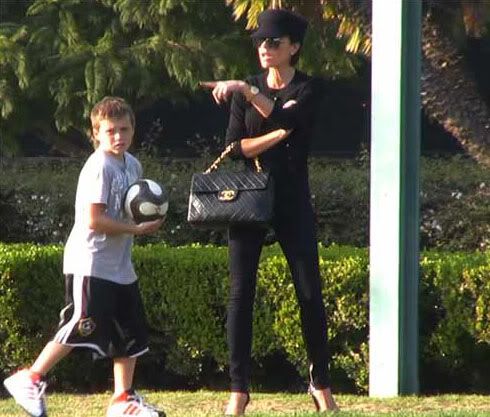 Source
&
Source