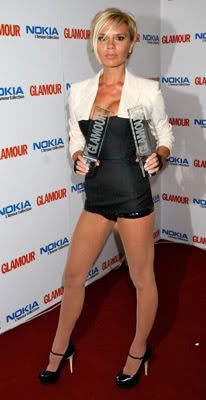 In my excitement of reporting what Victoria wore last night, I am not so proud to say I got it wrong.
Victoria was in fact dressed head-to-toe in Chanel and it was designed by Karl Lagerfeld. (I am still convinced that the corset is Cavalli)
When Victoria was asked about becoming a lady she said to the Sun
"Who cares if I'm not posh enough. All I care about is that Karl Lagerfeld said I'm cool — and he's the man."
Here are the sequinned hots pants she wore from Chanel's Spring 2007 collection.
Source
&
Source