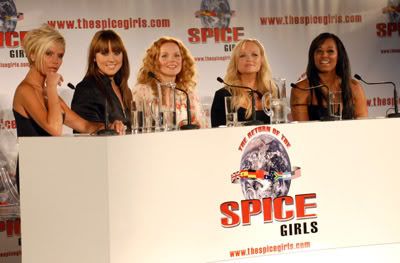 I watched the press conference today and it was very entertaining. The girls have not lost their sparkle nor their sense of humour.
Geri took center stage answering most of the questions from the press desperate to questions within the 45 minute time-frame.
One reporter from Heat magazine suggested that the five may not be fit enough to perform their dance routines.
"You don't look so fit yerself,"
giggled Mel B. Classic Scary...the whole conference laughed.
When a reporter from the Daily Mail started to ask a question, he was promptly told by Mel C that their story last week referring that the concerts would feature pre-recorded vocals was
"s**t".
Again good on you Mel C.
There were journalists from all over the world at the conference. A TV reporter from Russia, told the girls he was disappointed that his country had been missed out of the world schedule, was told:
"If you invite us, we'll come."
This could be a long tour if they take this approach.
When asked about their legendary rows Mel C said,
"We used to have our spats, but we were kids then and we're woman now".
She was then asked why she originally resisted the idea of a reunion, she said:
"A girl's allowed to change her mind."
As they will all -barring Mel C- be mothers by the time the tour kicks off Posh was asked if they would have a creche on tour. She said, "
We're definitely going to have a huge creche. Our priority is going to be our families. We want to have fun.

"That's one of the many reasons for this, for our children to see what we used to do.. I can be the cool one in the family for once!"
Posh you will always be cool to me.
Asked if they were reforming for the money, Geri responded by saying,
"For me it's about celebrating the past, enjoying each other, it's about our fans. It felt the right time -- it's kind of now or never."
Source
&
Source