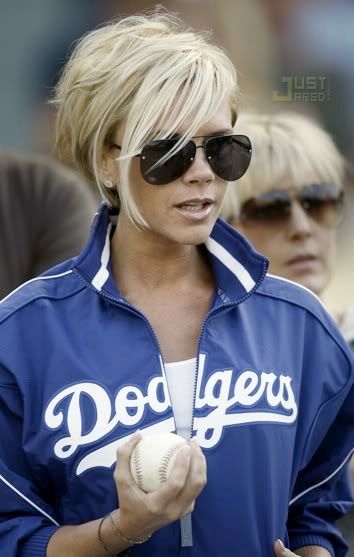 Mmm. It doesn't have the same ring as Goldenballs.
Here is Victoria Beckham at the LA Dodgers stadium hitting ball, catching a ball.....I don't really care because she is looking as cute as I have ever seen her. At first I thought she was on tippy toes, but she is actually wearing wedges. Trust Posh to still look stylish and trendy when she is hitting a ball with a stick.
On throwing out the first pitch:
"I'm gonna do the best I can, this is a huge honor for me."
On when she's moving to Los Angeles:
"Mid-July, I reckon. As a family, we're really excited about moving to L.A. He's looking forward to coming to a Dodgers game as well."
On hubby David Beckham watching from home in Madrid:
"I've been to lots of soccer stadiums, but this is something else," she said. "I'm going to do the best I can. It's a huge honor for me. David's going to be watching at home."
Check out this mega cute video.
So it looks like Victoria was only warming up for the big event which was her being the first to throw out the first pitch at the Los Angeles Dodgers vs New York Mets game...I guess that means being the first to throw the ball.
More pictures
...including NY Mets fans Hilary Swank and Jerry Seinfeld.
Source
&
Source