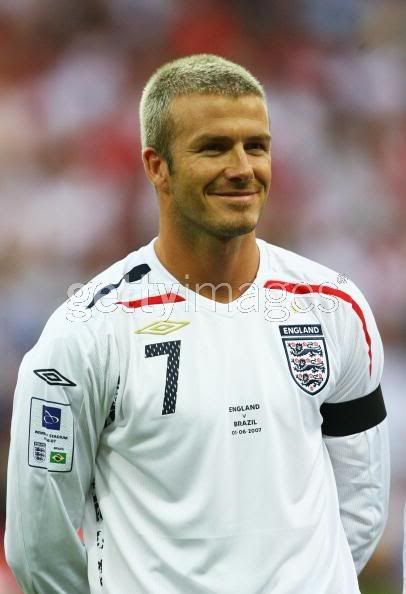 And doesn't he look happy to be back?
It was a very proud day for me and most England fans to see our football god "Sir" David Beckham back in an England shirt tonight.
I was at the match tonight (see ticket below) and David got by far the loudest cheer of the night, when he was announced to the crowd, in fact every time he touched the ball and especially when he set up the goal for John Terry. He got a standing ovation when taken off in the 77th minute.
Fans chanted:
"There's only one David Beckham!"
as he left the field.
I had goosebumps watching the match as I was so happy for him. He seemed to be enjoying himself and happy to be back.
Victoria also there cheering her man on as he earned his 95th cap for playing for England. I truly hope he reaches 100.
In a post match interview David Beckham said his return to the England set-up had been an enjoyable experience.
"I think everyone of us enjoyed it. It was such an historic night for all of England and it was great to be out there," he said.

"It is always nice to have the support of the fans and I have had that throughout my career. It was amazing out there for me.

"I am happy to have been part of this historic occasion.

"It was good to be back in the England squad and it was nice to be with the team and just be part of the set-up again."
David, we are happy to see you back.
The next match is the crucial Euro 2008 game against Estonia so more sexy Becks pictures to come.....I can't wait.
Source
&
Source