What a farce.
Why is he on the bench? Why is he not watching the game from the stands like most players in suits who are not fit to play? To please the celebrity watchers of course.
Celebrity watchers craned their necks for a glimpse of David Beckham as he arrived on Toronto FC's pitch Sunday, while thousands of boisterous sports fans sneered at the publicity spectacle and taunted him with jeers and signs as he sat on the sidelines.
Those who are interested game was drawn 0-0.
England boss Steve McClaren wants David back for the August 22 friendly with Germany and Euro qualifiers against Israel and Russia in September.
Becks said:
"I have to play a few games before I even think about going home to England to play for my country.

My main priority is getting fit and playing for LA Galaxy. Getting on the training pitch is my biggest goal at the moment."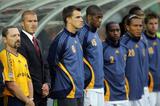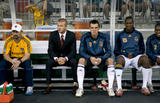 Source