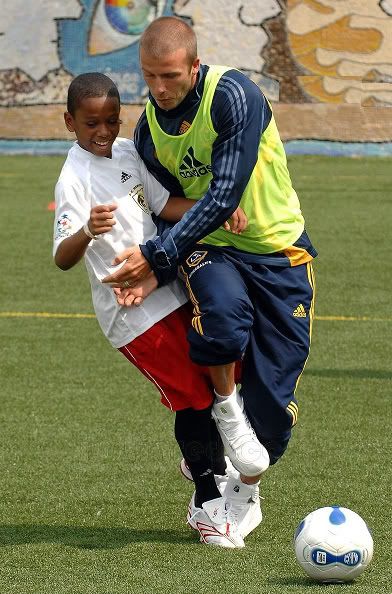 David Beckham was in uptown New York yesterday afternoon participating in a youth soccer (blah) clinic at Jacob Schiff Field in Harlem.
He was coaching 30 lucky invited youngsters from FC Harlem, launching a scheme that will see a new pitch built and new openings to play the game.
David seems determined to raise the profile of football in the US and he is really going the right way about it by making himself so accessible.
David told The Times.
"Places like this in Harlem – there's so many kids out there who want to learn the game. You can see them enjoying it and for me that's the most important thing."


As important as playing? he was asked.
"Without a doubt. This is one of the reasons why I moved to the US, not just to play for the Galaxy but to be an ambassador for the league, for the sport. Today has been one of the best moments since I arrived."
(falling in love with him a whole lot more)
The Galaxy play the New York Red Bulls at Giants Stadium tonight. Last Sunday, New York's home game against Toronto FC attracted 12,103. 60,000 tickets have been sold so far for tonights game, though the midfield player is unlikely to last 90 minutes on the stadium's artificial turf.
After signing many autographs, David gives his trainers (sneakers) to a young kid in the crowd. How cute.
Source
&
Source
&
Source