David arrived in Toronto today with his team mates. He was restricted to what he could do in training because of his sore ankle,.
He was rarely in view during the training session, although he was glimpsed sitting on the bench as the workout ended.
This really is sad. He should be in LA resting. The ice pack on his leg clearly indicates that he has aggravated his ankle on the flight to Canada. I feel sorry for him, he has been brought out like a show pony to keep everyone happy.
I
hope
think Frank Yallop is an intelligent guy, and he will not risk David tomorrow.
David's team mates seem to have bonded with their celebrity midfielder.
"I think he's more frustrated than anyone,"
said goalkeeper Joe Cannon.
"You can tell, he wants to play."
"You know what, he's an absolute normal guy,"
said Halifax defender Ante Jazic.
"When you see all the media attention he has, in the locker-room he's quiet, he keeps to himself, polite, talks to the guys. He's just a normal guy."
"What's David Like? He's pretty handsome,"
Landon Donovan, the Galaxy's other star, said jokingly
"He's actually very handsome.

"Nice guy, shy, just kind of quiet. Does his own thing. Really unassuming for someone of his fame and stature but he's been good. He's been enjoyable."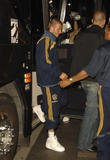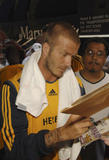 Source
&
Source