After the baseball game, David Beckham and his team mates also had time to go shopping.
They were spotted at
Roots
, who's apparel is like Abercrombie and Fitch with the hoodies and graphic tees, which is very much David's off duty style.
They all shopped for about an hour and were given a free leather bag in the LA Galaxy colours. White & Blue leather or Yellow & Blue leather...ick...I would not be keeping that gift.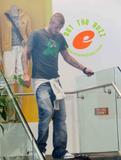 Source