Here are some encouraging photos of David Beckham kicking a ball yesterday during a light training session.
"The ultimate decision will come down to David,"
says Yallop.
"I'm not going to put him out there to re-injure it. We'll put him out there when he is fit and ready to go. He's getting close. We won't force it. He knows his own body and he'll let us know if he is ready to go."
After training there was a press conference. When asked weather he would play tonight, David said,
"Hopefully I will play some part of it. We're not sure yet. We'll see how it reacts today."
On his recovery:
"It's always frustrating when you are a sportsman and you can't do what you love doing. It's frustrating because it's an injury that I have had now for almost eight weeks. It's getting better, it's improving every day, but a lot of people and myself want it to be a bit quicker. Obviously it's a natural thing to heal in a natural way and that's what I am trying to do."
On training:
"I trained for about 20 minutes, which was good. I still have some discomfort from certain parts of the play and certain parts of running, but overall it's still a frustrating time for myself. It's looking up. I can see the light at the end of the tunnel. Hopefully I get out there playing soon."
On some peoples reaction to his injury:
"Obviously there are going to be people that maybe don't understand, but it's a sports injury. I can't really apologize for being injured. It's just a way of life in any sportsman's career. I must say that it's so frustrating for myself to not be out there on the pitch."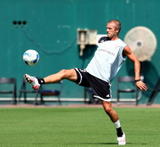 Source
&
Source