David Beckahm has just announced that he will play on Wednesday night.
Today he trained with his team mates and said that although his left ankle injury isn't completely healed, he is about about 78% fit. I would prefer a 100% but Scott E is going to this game tomorrow and I would love Becks to play so we can get some pitch side reporting.
David said
"It's not perfect yet, but I think I can at least play half a game tomorrow. It still feels unstable to a certain extent, but it feels stable enough to actually play in a game and see how far I can take it."
The Galaxy host D.C. United in the SuperLiga tournament semifinals Wednesday night. The teams met last week in a Major League Soccer game. The Galaxy lost 1-0 in a game in which Beckham played the final 21 minutes.
Will David start or comes off the bench? I hope David starts the game, as he is yet to walk onto a pitch with his team mates.
Here are some pictures of David and Brooklyn going out for coffee on Monday. A lucky fan managed to get her photo taken with him.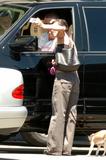 Source
&
Source