David Beckham and his teammates spent their day off today in Toronto watching the Blue Jays host the New York Yankees.
Several members of the Toronto Blue Jays and Yankees took the opportunity to get autographs and have their picture taken with David Beckham. But unfortunately David was not a lucky charm for the Blue Jays as they lost their winning streak to the Yankees.
The Galaxy are scheduled to fly to Washington on Tuesday for a match on Thursday against D.C. United.
Beckham, who continues to struggle with a nagging left ankle injury, and leaves Toronto with no set date for a return to action saying he needed another week to 10 days to reach game fitness.
Last night after their draw Becks and his LA Galaxy teammates closed down the Ultra Supper Club and partied the night away.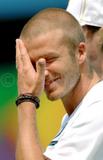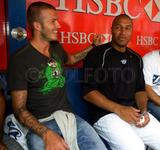 Source
&
Source