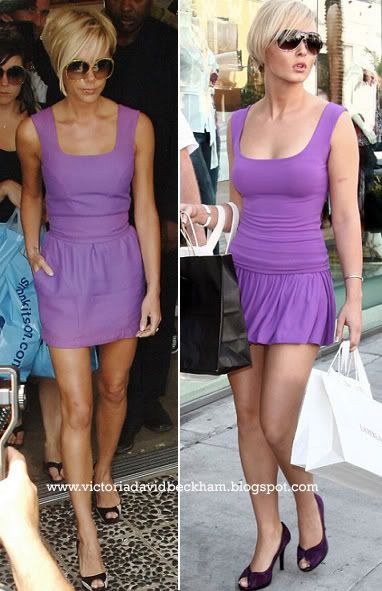 They say imitation is the sincerest form of flattery, but this woman needs to give it up.
Chanelle Hayes, who is currently in LA, has copied
ANOTHER
one of Victoria's outfit's.
The first time was when she copied Victoria's
Glamour Awards Chanel/Cavalli outfit
now she is at it again, wearing another poorer version of the dress Victoria wore in LA earlier this year.
Chanelle had jetted all the way to LA with the aim to meet Victoria Beckham, but when she arrived at the Galaxy game, the wannabee Posh-a-like was denied entry to the VIP area.
A source told The Sun:
"There was no way Chanelle was getting past Posh's security.

"She's flattered that Chanelle is a fan but she is in no rush to meet her."
I don't blame her.
Source
&
Source