If you are like me you are wondering why David Beckham was captain last night instead of Landon Donovan? A midseason captaincy change is generally rare.
Apparently Donovan initiated the move, with Galaxy coach Frank Yallop's approval.
"Landon and David had a chat on Tuesday,"
said Yallop.
"Landon wanted him to have that role."
The change was a no-brainer, according to Donovan.
"I'm not stupid,"
Donovan said.
"Beckham has been a captain for England, one of the better teams in the world. For me, it's not as important to wear the armband. I'm going to play the same way and act the same way towards guys whether I have that or not. I think it made him immediately part of the team in a real sense, not just on the field. I think guys looked at him differently, and he could say things to guys differently. I told him that if he was ready for it, I thought it was appropriate that he wear it and that I thought it would help us right now."
Looks like he was right.
At the post match press conference David said
"I'm very honored that he felt the need to give me the armband and that he felt it would lift the team.""As soon as the free kick was given - I don't want to sound too confident - but I felt I was going to score,"
Beckham said of the set piece.
"It might sound easy to say it after I've scored, but that's the feeling I actually had."

"It was a great team performance tonight. We showed a lot of character to play like we did. I didn't expect to last an hour, but it felt great after 10 minutes into the game. My confidence grew."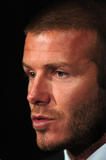 Source
&
Source