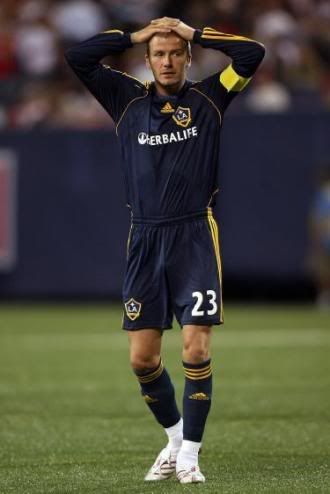 An MLS record crowd of 66,237 watched David Beckham play a full 90 minutes at Giants stadium last night.
The Galaxy scored two in the space of five minutes early in the game - both Beckham assists - but lost to a last minute goal from Juan Pablo Angel, to end the game 5-4.
The most disappoint thing again was the booing every time David touched the ball, and this is despite most people in the stadium wearing Beckham shirts. Beckham's response to the boo boys were
"I've had that at many away grounds, and I've had worse than that."
Much worst in my opinion.
The funniest thing about the those booing is that they paid from $40-$60 for this game when a usual game at the Giants Stadium is around $9. Also the average crowd at the Giants Stadium is 15,000, so did those extra 50,000 pay over the odds just to boo him? (*eyeroll*)
Beckham could be seen limping on his troublesome left ankle at times, and after the game he admitted he would have to wait and see if he would be fit this week.
"Only time will tell,"
he said.
"I've got to see how it is on Sunday. It's swollen up at the moment but that was always going to happen. I'm traveling to London on Sunday morning to meet up with the team and hopefully I'll be playing some sort of role on Wednesday."

"I was surprised to actually play 90 minutes,"
Beckham said.
"The manager and the coaching staff kept asking me if I wanted to come off. But I'm quite a stubborn person on and off the field. When we were winning I didn't want to come off and when we were losing I didn't want to come off.

"I think my stubborness took over and I didn't want to come off the pitch."
Beckham had initially been reluctant to play on the artificial turf used at Giants Stadium. He added:
"My ankle took a pounding obviously, I'm not used to this surface, but it wasn't bad."
Yallop is clearly reluctant to let his star player go when he is obviously still battling the injury which has hampered his introduction to MLS.
Asked how he felt about releasing Beckham for international duty, Yallop replied
"It's a FIFA date, if the player is fit and he gets called up, he has to go."
Asked directly if he wanted Beckham to go, Yallop simply said:
"He wants to go."
Source
&
Source
&
Source