Last night in the US Victoria was on Jay Leno's The Tonight Show.
She said to Jay Leno that being outnumbered by her kids, Brooklyn, 8, Romeo, 4, and Cruz, 2, has changed her perspective on parenting.
"We've got so many children now, I think it's not about parenting anymore. It's about crowd control. I feel that with so many, I'm constantly, 'Don't do this. Don't do that. Don't touch this. Don't touch that.'"
As for expanding the crowd, Victoria, says she would love to have a daughter, hopefully in a few years' time.
"If I'm blessed enough to have another baby at some point, that would be great. I'm really girly and I would love to dress a little girl up, but we'll see what happens. Maybe in a few years."
Meanwhile, she and David are busy settling into their new L.A. home right down the
street from Jay, who extended an invite to the family to go for a spin in some of his collector's vehicles, including a fire engine.
"My kids would think it's so cool to go for a ride around in a fire engine."
I have been assured I won't get into trouble, so here is her interview.
So Victoria did not go for any of our choices of outfits on Jay Leno. Instead she wore this ensemble an
Ivory top
and a
silk tweed skirt
.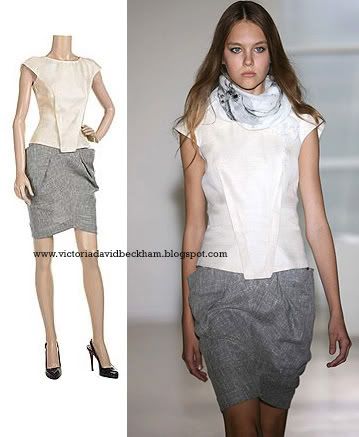 UPDATE: Screen grabs mixed with HQ's
Source
&
Source