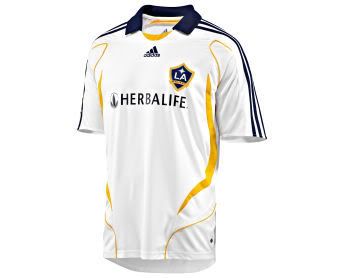 This is rebranded Adidas LA Galaxy home shirt that David Beckham will be wearing for his new club. Very much like Real Madrid, don't you think?
The look of the Galaxy's new team kit, which
were
to be unveiled next week with the bright-lights of David's arrival. It had been guarded by the team and Adidas with Fort Knox-like security.
The new team kit was inadvertently posted for a brief time last weekend on adidas.com before the mistake was noticed and the item was pulled by Sunday.
Adidas, Galaxy and Major League Soccer, who have spent months planning the details on how best to maximize the impact of Beckham's arrival, have been scrambling since to keep the new look under wraps.
I guess they did not try hard enough.
Source