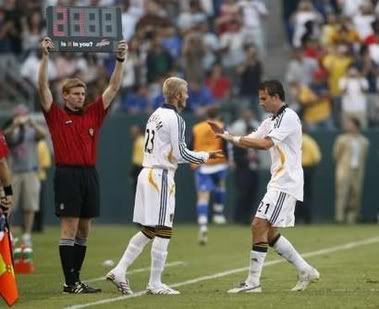 Beckham got off the bench in the 66th minute to warm up, exciting fans who had waited most of the game to see him. He jogged up and down the sidelines and a roar went up when Beckham tapped an out-of-bounds ball back to the referee, his first kick of the night.
He briefly ran off the field with the Galaxy's trainer before returning taking off his warmup shirt to reveal his preferred long-sleeved jersey, which he is used to wearing in the Spanish heat.
David Beckham took the field to make his debut on 78th minute at the Home Depot Center.
Despite his 12 minutes on the field, it was not enough to inspire LA Galaxy to victory as they lost by one goal which was scored by John Terry on the 49th minute.
There were cheers each time Beckham touched the ball, the highlight being a corner kick he took in stoppage time.
During the game David did appear to be in physical pain, but played on regardless, which continues to prove that he was under considerable pressure to perform in this game.
Victoria, wearing her trademark huge black sunglasses, along with actress Katie Holmes and her daughter Suri, watched from a private box above the field. Actress Jennifer Love Hewitt was like a lot of spectators, attending her first soccer game.
Eva Longoria, minus new hubby Tony Parker, comedian Drew Carey, NBA star Kevin Garnett, movie producer Brian Grazer, Arnold Schwarzenegger and English actors John Hurt and Ray Winstone also made what were likely their first trips to the home of the LA Galaxy.
Here is David about to make his debut.
Source