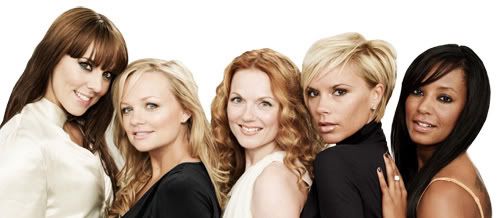 The Spice Girls are under pressure to increase their world tour to 50 dates, after an unprecedented demand for tickets from fans . The group are to hold talks with manager Simon Fuller to extend the tour after two million fans registered on the group's website.
However, the group - who have agreed to 11 dates and are already considering a further 14 shows - are said to be reluctant because of family commitments.
A source said:
"The girls really want to do a huge tour but they're worried about how much they'll be able to commit to it because of their families."
Victoria - who has just moved to Los Angeles with husband David - has three sons, Brooklyn, Romeo and Cruz, and Mel B has two daughters, Phoenix Chi and Angel Iris.
Geri is mother to one-year-old Bluebell Madonna, Emma is due to give birth next month, while Mel C has just got engaged and has solo commitments.
A Spice Girls spokesman said:
"The interest has been unprecedented. We believe there have been enough ticket applications to fill London's new Wembley Stadium 20 times over!"
The girls will release a greatest hits album to coincide with the tour this December.
I think there are going to be a lot of diappointed people. Hopefully it is not me.
If your city has not been choosen you can now Vote for the Spice Girls to tour in your country. Just go to the website
www.thespicegirls.com
. I guess the country with most votes get considered as an added date on the Spice Girls tour.
Source