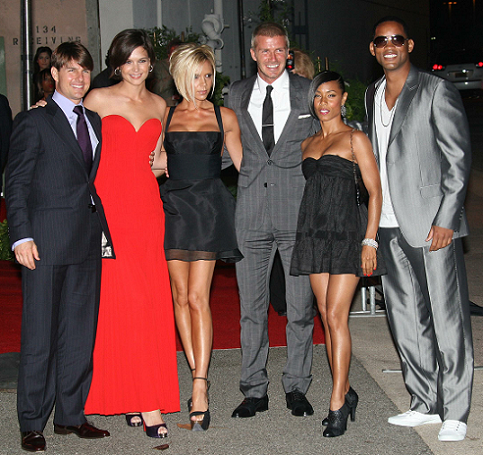 Oscar winners and entertainments movers and shakers turned out for what was billed as an official
'Welcome to LA'
party for David and Victoria Beckham.
The Beckhams arrived at the exclusive event at the Museum of Contemporary Art's Geffen Contemporary with Tom Cruise, Katie Holmes, Will Smith and his wife Jada Pinkett Smith. Victoria looks beautiful in mini dress that had feathered detail on the back. She may have been annoyed that Jada wore a similar short black dress. Katie stood out in a long red dress.
Director Ron Howard and producer Brian Grazer were among the first to arrive. Brooke Shields was there. Eva Longoria was followed in by Simon Fuller, Wesley Snipes, Quincy Jones, Bruce Willis, Demi Moore, Ashton Kutcher, Vivica Fox, Matthew Perry, Jim Carrey, Jenny McCarthy, Tyrese Gibson, Rihanna and Brooke Shields.
No media were allow inside the event so enjoy the arrival pictures.
Source
&
Source