Even though David is unlike to play anytime soon that did not stop a Beckham debut. Brooklyn Beckham showed off his ball skills on Tuesday at SoCal Soccer School, not that he needs a school when his dad own's one and is one of the best players in the world but it is nice to see him interact with other kids.
He is already showing great potential. I wonder if he can bend it like Daddy?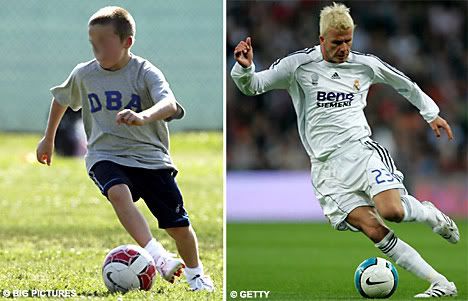 Victoria, looking very relaxed in a very
familiar outfit
which she wore back in February. But she still looks fabulous topping off her look in her Lanvin high-heeled shoes.
After practice they all went to TGI Friday's to get some grub. Just another normal family...minus the paparazzi.
Source