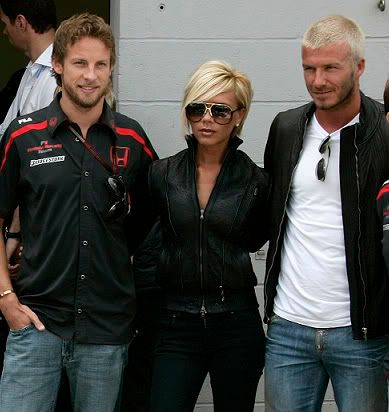 David and Victoria had the choice between 2 major sporting events in the UK and chose the Grand Prix at Silverstone this afternoon.
Honda boss Nick Fry explained how the Beckham's came to be at Silverstone on race day.
"It came about because our marketing agency is a company called 19 Entertainment, who also look after the Beckham's,"
he said.
Is there anything Simon Fuller does not have a hand in? Football, Music, Television, Fashion and now Cars.
The Beckham's were hanging out with British Formula 1 driver Jenson Button wishing him luck before the race as he shows them around his domain.
They wore matching leather jackets reminiscent of the days when they used to deliberately dress alike.
I miss her long hair. I hope these are not the last pictures we see of David and Victoria in Europe.
Source