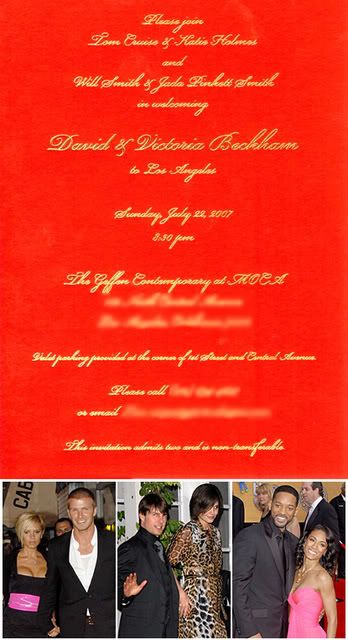 It has be reported that tonight's Beckham welcome party, hosted by Tom Cruise, Katie Holmes, and Will and Jada Pinkett Smith, will rival Vanity Fair's Oscar party. The guest list has a total of 600 people on it.
The above invitation has gone out to some of the biggest names in showbiz, including Oprah, George Clooney, Jim Carrey and Steven Spielberg as well as behind-the-scenes movers and shakers such as Brian Grazer and David Geffen.
Most Hollywood types have never ventured to the corner of 1st and Central in the downtown Arts district. But that's where this party will take place so it can be roped off from gawkers, press and paparazzi, but I hope we still get pictures of the event. I am sure we will.
You must be wondering what Will and Jada have to do with this event, as they have not been known to be friends with the Beckham's. Well it has been reported that the Cruise's were worried that the guests would think that this was a Scientolgoy event and not attend, hence the need for a second host.
Source