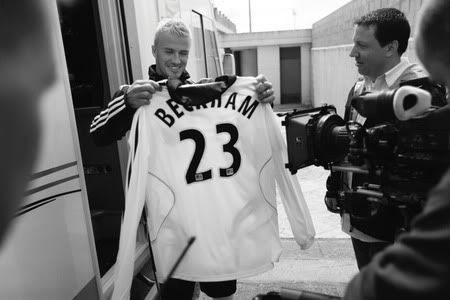 After David's
'New Beginnings'
documentary yesterday, you will be pleased to know that we will have more Becks on the telly.
David Beckham's Soccer USA
debuts tonight. It airs in the US on Fox Soccer Channel at 21:00 ET and in the UK at 19:15 on Channel Five.
It is a series of 13 episodes which will begin with David's debut match against Chelsea on Saturday.
The remaining episodes will take place at a different MLS tilt each week, and will include video highlights from Galaxy games and Beckham's personal life; interviews with him and others from MLS; as well as special segments about his life leading up to his trip to America and what he plans to do now that he's in the US.
Check out
David Beckham blog
which has been updated.
Source