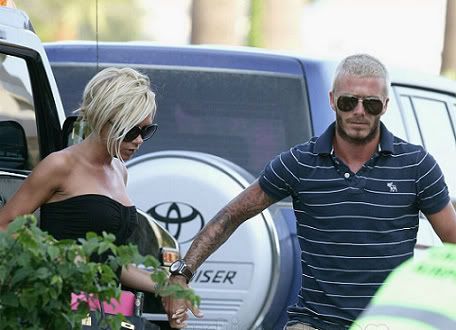 The Beckham's fly to London on Saturday after a relaxing break at their home in the South of France.
David and Victoria boarded their private jet with their 3 sons, in what will be the penultimate stop before they say goodbye to Europe ahead of their move to the US.
David's first expected game for LA Galaxy is on 21st July. He is due to be presented to the LA Galaxy crowd on 13th July and start training with the team on 16th July.
Victoria looks gorgeous wearing her Lanvin shoes, boobtube dress and carrying her trusty Hermes bag.
David continues to sport his dark beard after he rejected a renewal of his contract with Gillette (he was not allowed to have a beard whilst under contract).
What a beautiful couple they are.
Source