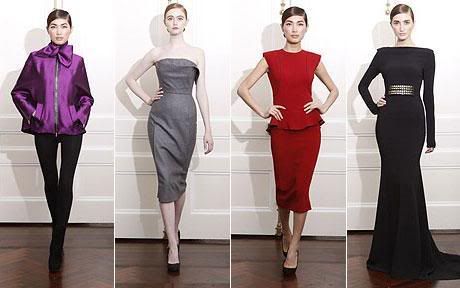 The UK press seem to be slight miffed that Victoria Beckham has shown her second collection in New York. I would say to the UK press, if you showed her any kind of love or respect in the first place, maybe she would not feel the need to show her collection stateside.
The price points for this collection are quite high. They start from £850 up to a high of £4,600 and £4,900 for the more elaborate, long, trained gowns.
Production for this collection will be doubled, so the 400 of Spring 2009, will become 800 for Fall 2009.
The Times said
"It's a finely-structured and perfectly-tailored collection to within a centimetre of their lives, passed by her gaze."
The Daily Mail says
,
"Younger, brighter and leggier: Posh unveils 'accomplished' second collection of dresses."
The Sun says
.
"CLEAVAGE was definitely out, but legs were IN as far as Victoria Beckham's latest dress range was concerned."
The Guardian says
,
"The popstar turned fashion designer branches out into more adventurous coats and dresses."