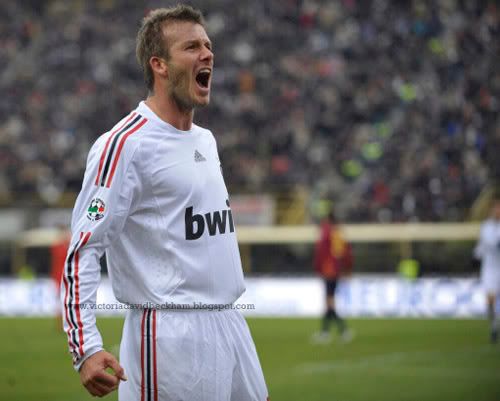 Two of Italy's top newspapers have apologised to David Beckham, and admitted they were wrong to criticise Milan's decision to take him on loan.
Top sports commentator Mario Sconcerti issued a front page apology in the
Corriere Della Sera
after he had originally branded it a ''mistake'' to sign the England midfielder for three months.
But he was forced to eat humble pasta pie after Beckham's arrival sparked an upturn in fortunes at Milan.
The respected
Gazzetta dello Sport
also issued an apology to Becks, who has been a revelation since arriving at the San Siro where he has scored two goals, and on Sunday provided two key assists to help his side to a 3-0 win at Lazio - a result which propelled them to second in the Serie A table.
Sconcerti wrote:
"I have made a mistake - David is working."
"I believe it is right that I acknowledge the contribution David Beckham has made to Milan and that I made some mistakes in his valuation."

"I was in company with others but that is no excuse and it is only right that I put up my hand."

Sconcerti added: "We were all sceptical to begin with but David has won and we apologise. Beckham has been important to Milan."

"It is the ease, I would say the natural way, that Beckham has brought balance to Milan and which has not been seen before and we would thought we would never see."

"He is not mobile but he makes the ball run. He is not a marker but he occupies well space and he is in good shape."

"But above all he understands the game, he knows how to play simple football and it is rare to find a midfielder with such harmony."

"His fitness and his ability to move the game that have given Milan a different step. Now Milan play more, they are still a little slow but they make the ball run and this is ideal for Kaka and Pato."

"All this has led to the exclusion of Ronaldinho but that is another story and maybe here I do not need to apologise."
I love that time after time, after time, both Victoria and David prove people wrong. They always let their work do the talking and don't get involved in petty media battles.
This is why I respect them so much. I also respect the two journalists who were big enough to admit they were wrong. Not many men can do that, especially in public.