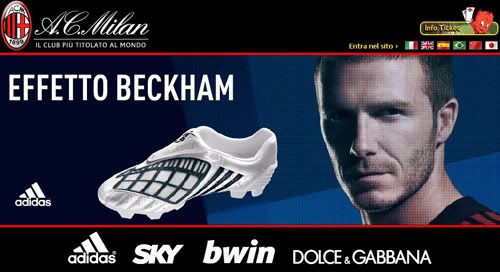 David Beckham will be launching a new pair boots called,
David Beckham Climacool
.
He will be making an appearance aat the Adidas store in Milan (corso Buenos Aires 88) on Monday 23rd February at 4pm.
You can find
more information here
.
The website translation reads:
Great opportunity for all fans! Come and meet David Beckham at the adidas store in Milan
Meet David on Monday February 23 at the adidas store in Corso Buenos Aires 88, beginning at 16:00.
If you think you know all about the English champion went to the adidas store and get the chance to meet your sample and first-hand the new Predator ® David Beckham Climacool ®, the fantastic soccer shoes used by the English star.
Do not miss out!
If anyone goes, please let me know.