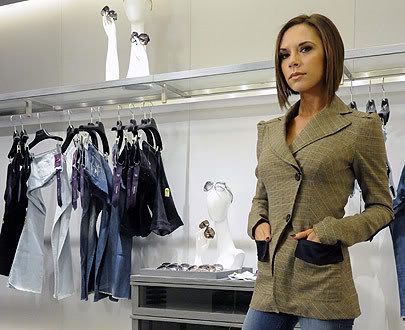 In Toronto last week for the final two concerts of the Spice Girls reunion tour, Beckham stopped by
Holt Renfrew
on Tuesday to officially launch dVb by Victoria Beckham, her collection of jeans and sunglasses.
Needless to say, there was major mayhem, from the personal shopping suites where photographers and journalists milled about awaiting their turn (testing their recorders once, twice, three times) to the third floor, so packed with adolescent excitement that even the adults were unapologetically giddy.
My own attempt at professionalism quickly evaporated as soon as Posh arrived for our tête-à-tête, if only because we were wearing variations of the same outfit: tailored tweed blazers and skinny jeans tucked into boots.
I wouldn't have been surprised if she had left the room to change. And yet, she laughed and said,
"We're quite spot on right now,"
to which I became effusive and responded that were we to be featured in the
"Who wears it better"
reader poll common to gossip rags, she would most certainly win.
"I don't know, you're rocking it quite well,"
she replied.
Was the room hot or was I blushing? Who'd have thought she'd be so - nice.
But when it comes to dVb, Beckham takes her role seriously. This is her way of translating girl power into fashion power.
Unlike other celebrity clothing labels that are widely available and relatively inexpensive, her line is carried only by high-end retailers (including Colette in Paris and Harvey Nichols in London) and prices start at $175 (shades are $295).
She pointed to a pair of jeans that was as expertly faded as any other in-demand designer denim and explained why the style is a personal favourite.
"Right now, everyone really wants a boot cut, but what I've done is taken the boot cut and made it slightly more fashion. A lot of my sunglasses and jeans have a very strong seventies influence. These are really, really tight on the leg and then they have a really nice flare and it's a nice vintage denim so it looks like you've had them for ages."
Outside the suite, a few dozen
Holt Renfrew
premium shoppers waited to have their photo taken with the pint-sized superstar. Although no one was wearing jeans, Beckham did not mind.
"She told us she wanted our dresses and handbags,"
one woman gushed with her matchy-matchy friend, both clutching Hermès Birkins.
There's no doubt Posh plans to push further into the industry. And it's not about announcing herself.
"I was very careful with putting my name on the jeans so all of my personal logo-ing is very, very small. And because the product is so great, it has spoken for itself so I didn't need to scream how this is my collection."
Beckham launched the line last year and the number of styles and colours have increased this season (expect the bold green wash to be a hit).
She speaks of a men's line inspired by her husband and a forthcoming capsule collection of clothes.
"I like to set trends, rather than follow them, and I really want to keep the high fashion in there,"
she said.
Nice Spice does a lovely job at appearing down to earth. When a photographer asked whether she had a good side for the camera, she answered,
"Oh god, if I do, don't tell me because I'll become completely vain."
By Amy Verner for
Globe & Mail