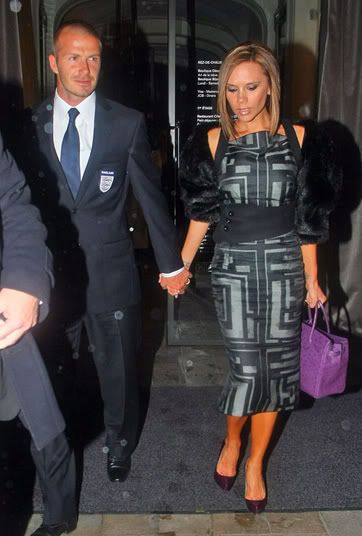 Despite England losing in France that did not stop Victoria and David Beckham celebrating his 100th cap in last night.
The couple arrived at
Baccarat Lounge Restaurant
looking very loved up and stylish. Victoria in her stunning Antoni Beradi fitted dress, and him wearing his England suit very proudly.
The pair dined on a nouvelle cuisine set menu at the eatery in Place des Etats-Unis.
"They didn't have a champagne toast but Baccarat presented David with a cake at the end of the meal,"
says the source.
"It was in the shape of a soccer ball and decorated with sparklers."
The Beckhams are due to return home to America in preparation for a Saturday match in Denver for his Los Angeles Galaxy.
Source