David Beckham is the cover star for Major League Soccer magazine, much like he was at the start of last season.
He has two features.

BECKHAM: IN HIS OWN WORDS
David Beckham talks about his life, his sport, the Galaxy and England, and trying to live a normal life in the cauldron of celebrity culture.
DIARY: DOWN UNDER
Ten days with David Beckham and the Galaxy on their tour or Australia and New Zealand.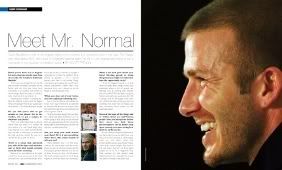 The magazine is on sale now in the US.
Source