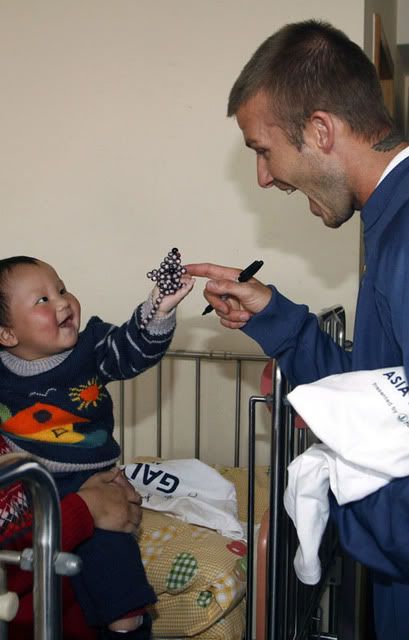 Doing his good deed for the day and showing that he really cares for kids, David Beckham paid a visit to leukemia patients at Xinhua Hospital on Tuesday
Causing a stir upon arrival, hundreds of fans, staff, the media and curious bystanders converged upon the hospital, prompting police to close off access to a wing of Xinhua Hospital, with no-one was allowed to enter or leave the wing for several hours.
One woman screamed hysterically as angry police refused to allow her inside, and organisers were forced to cancel a donation ceremony scheduled to take place outside the hospital.

"I want to see a doctor,"
she said as she tried to fight her way in.
Police struggled to clear people away from the ward's main entrance, holding up Beckham's car for at least 15 minutes.
Passionate fans, I admire, crazed fans I hate. They just ruin all the fun for everyone else.
Source