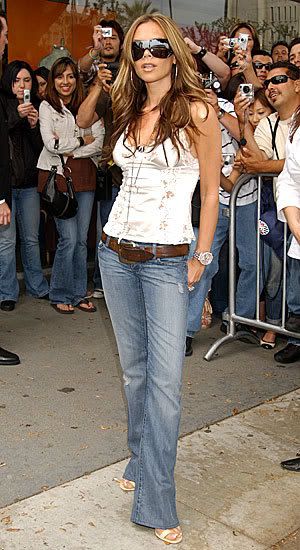 Fraser Ross, owner of the Los Angeles-based Kitson stores, said his number-one issue with celebrity clothing lines is the lack of participation from the celebrities.
"There has to be more support for their retailers. The celebrity has to be 100 percent involved with their own line and they have to be willing to support the retailers who are selling it. Having a clothing line should be treated by them as no different than selling an album or promoting a movie,"
he said.
"I'm fighting right now with Victoria Beckham's people because she lives here in L.A., we sell her line and she won't come in here to do an appearance. We have customers asking if she will come in and what am I supposed to tell them? She lives here, she really should come out and support her fans, the people buying her jeans."
As you all know Victoria Beckham has made numerous personal appearances at
Saks Fifth Avenue
and
Holt Renfrew
recently.
Personally I don't see Victoria promoting her product there. Victoria has said on many occasions that she wants the dVb brand to be synonymous with high end stores, and to me Kitson is very much a t-shirt stores were people like Heidi Montag go and shop just to get papped by the paparazzi. Kitson also has the likes of Paris Hilton promoting her crappy ass line in the store, so no wonder she wants to stay away.
The picture above is when Victoria last did a promotion at Kitson back in June 2005. That was when she was under contract for
Rock and Republic
.
Source