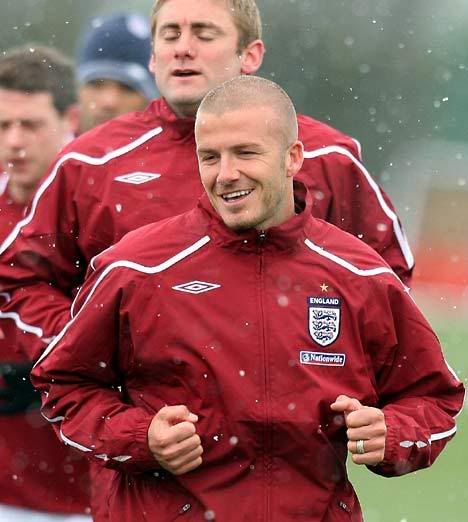 David Beckham took his first training session with the England squad, since being recalled to the England squad this morning in London.
He looks incredibly happy, and I am so proud that he will get the chance to get his 100 cap for England.
It has been snowing - surprisingly for March - in London today, which is in stark contrast to the sunshine of LA when David left there on Saturday.
England manager Fabio Capello addressed the interest surrounding David's recall and the possibility he'll give the midfielder his 100th appearance for England.
He explained: "It is not my style to call up someone and do them a favor."

"I understand the nation's obsession with Beckham, but I am not obsessed with him. I called him up because I believe he will be useful for the team."

Before leaving LA for England, David enjoyed some quality time with his wife Victoria.

The couple dined together at West Hollywood restaurant STK with fellow Brit Kate Beckinsale and her husband, Len Wiseman on Friday night.

Whilst on the double date, an onlooker noted: "David is still really attentive to her. Her had his arm around the back of her chair and would whisper in her ear. She was beaming, the fire is still there, you can just tell."

David leaving LA, Saturday




Arriving at London's Heathrow Airport, Sunday


Training with the England squad, Monday
Source