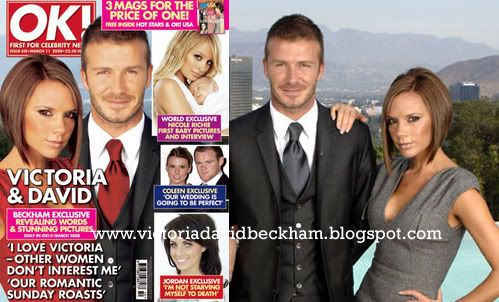 I am one who believes that since the UK edition of
OK!
magazine is now considered a down-market magazine, Victoria and David Beckham no longer give them "exclusive" interviews.
I do not believe Victoria would speak a magazine that has Jordan aka Katie Price on the cover every other week as they hate each other. Jordan also "writes" a column in the magazine every week, so this just goes to show how low grade this magazine has become.
I found it very funny this week when
OK!
claimed they have an "exclusive" interview with David and Victoria and stunning pictures.
I flicked through the magazine when I saw it yesterday - as I was not willing to pay for such crap - and could not help but laugh. For starters the cover is very heavily edited - his tie, her dress - and very clearly a cut, paste and photoshop of the picture of the Beckhams after their interview with Barbara Walters last year.
Source