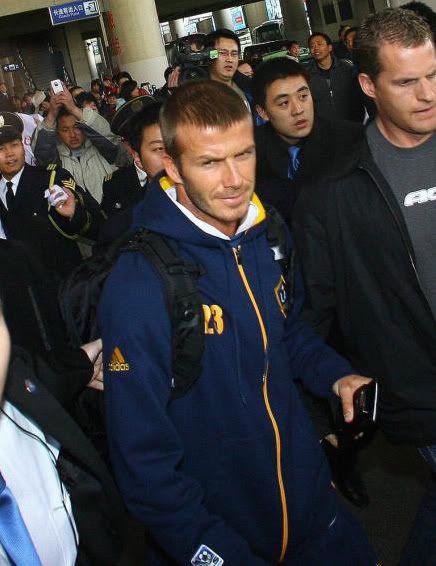 Beckham-mania hit Shanghai yesterday as the David Beckham touched down. David will tour the city with his team LA Galaxy before a match on Wednesday.
Galaxy will play Shanghai-Hong Kong United as part of a pre-season Asian tour.
After arriving in Shanghai on Sunday, Beckham told reporters that getting fit enough to play again for England was a top priority.
"All I can do now is to get my fitness and play as many games as possible. We will just have to wait and see,"
Beckham said.
But whether Chinese fans get to see Beckham play for the Galaxy's clash Wednesday against a Shanghai-Hong Kong team will depend on the hazardous pitch being adequately swept, Gullit said.
"The pitch is in bad shape and dangerous, there were stones and bones, shells, everything was on the pitch. It is pretty difficult to play on it, so I hope they can clean it,"
he said.
The poor thing is looking a little tired at the press conference.
David had a little time to do some shopping in Shanghai.
He sure does love his Adidas gear.
Source