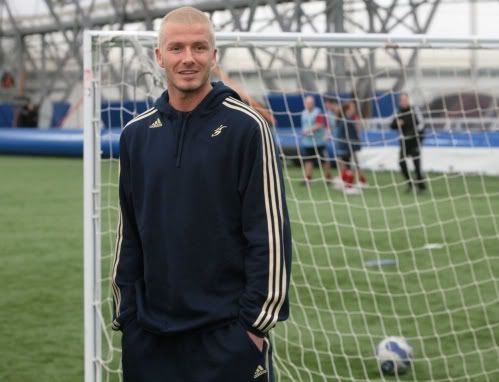 David Beckham will be fighting for his England place and the chance to win his 100th cap tonight as he will be watched in LA Galaxy's friendly with FC Dallas at Pizza Hut Park in front of Fabio Capello's No.2 Franco Baldini.
David insists he is ready and willing to prove he is fit enough to get back in the England squad and become only the fifth player to reach 100 caps against France on March 26.
Beckham said:
"The biggest thing is that I show everybody what I can do on the field".

"Last season, with all the injuries I had in the second half of the year, was frustrating for me".

"This season for LA I hope to be playing every game and the fans will be able to see me being 100 per cent fit for the first time, which is how I feel I am now."
But even before Beckham plays tonight, England boss Capello is worried at the toll being taken by his pre-season campaign which for me was really a promotional tour as the competition was not that great, despite the losses.
Tonights game will be shown live on the
LA Galaxy website
.
Source