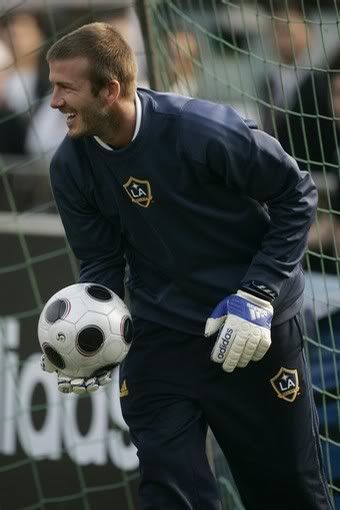 David Beckham arrived in Hong Kong yesterday, with the usual greeting of flowers, and joined a training session with 80 young soccer fans as part of a tour with his team.
During the session which lasted about 90 minutes, the young footballers were joined by Beckham and seven other team mates at the King's Park Sports Ground in Yau Ma Tei, where they honed their skills in passing, ball control, goal shooting, penalty kicks, and team work.
Beckham is still suffering from an injury, so he swapped positions and played in goal for the day. However, the young players did not give him an easy time as they were all eager to make a goal.
The players were then presented with souvenir football shirts, printed with their numbers and names in Chinese. Beckham also received a set of scrolls that showed a poetic couplet based around his name in Chinese.
Beckham loves any event that can make a child smile, as do I.
I ♥ him.
LA Galaxy play Hong Kong Union today.
Source