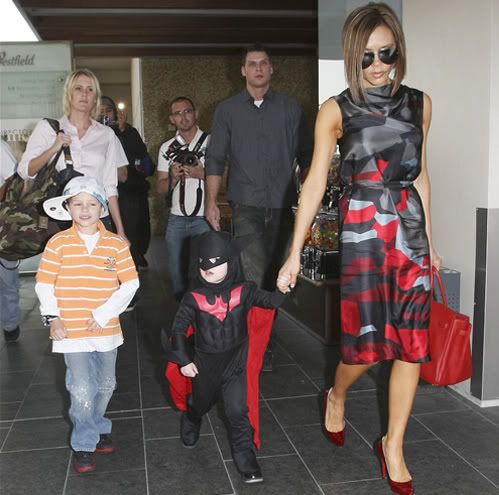 As I said earlier the Beckhams continued Brooklyn's birthday celebrations at Pink Taco.
Many thanks to Lima who sent me a
video
which shows the Beckhams going to the cinema, and then from the cinema to
Pink Taco
.
It also shows Heidi Klum and Eva Longoria arriving with a present for the birthday boy.
Source as the restaurant say:
One source tells us….
"Tonight, Victoria Beckham and family visited Harry Morton's Pink Taco to celebrate Brooklyn's birthday party. There were about 15 kids total (13 adults) and they had all kinds of things off the menu (chips, salsa, quesadillas, guacamole). They brought their own special bday cake to celebrate. Close friends Eva Longoria and Heidi Klum were there to celebrate as well. All women were looking stunning and the kids were just being kids, laughing it up. They even brought their own burned CD to play for the party and everyone had a memorable time.
Another eyewitness said:
"I was eating dinner tonight at Pink Taco in Century City when in walked Mrs. Beckham (in a black dress with flowers and high high heels) and the little Beckhams in tow. Apparently they were celebrating little Brooklyn's 9th Birthday. They ate Mexican food (the kids did, Posh only drank wine) and were really loud when they brought out he cake. But the best part was when the kids started break dancing in the middle of the restaurant. They had the restaurant put on this special cd to have the break dance too. It was amazing. My friends and I couldn't stop trying to sneak a peak at the dancing Beckhams. We didn't see David Beckham at the restaurant. Eva Longoria was there to celebrate Brooklyn's Birthday with Posh."


Sounds like a good time was had by all.

Thanks Katie.

Source
&
Source