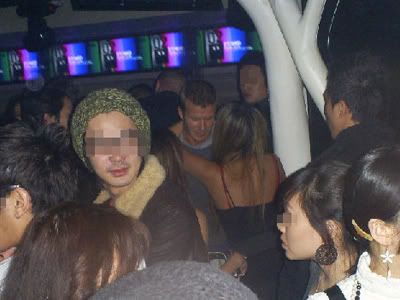 The trouble with being David Beckham is that he is GORGEOUS, and that he gets mobbed by girls, which I am sure happens everyday.
While enjoying himself in
Seouls Circle Club
, along with his team-mates, Beckham started chatting with a group of girl fans.
And it was then that a blonde in clingy black dress curled her arm around his neck.
It was her dream come true,
The Sun
newspaper quoted reveller Winter Kim, as saying.
Beckhams spokesman said:
"He was approached by lots of people wanting to kiss him and pose for pictures".

"It happens everywhere he goes. Theres

nothing

more to it"
, the spokesman added.
I
totally
agree, but no doubt Victoria will be furious with him none the less.
Everyone with a camera phone took a picture of him no doubt, they would have all known he was there. He would not be stupid enough to do anything to jeopardise "Brand Beckham" with a random girl, in the middle of a nightclub.
I only posted these pictures so you can here a sane justification and not a tabloid version of events, which I read yesterday and today.
Source
&
Source