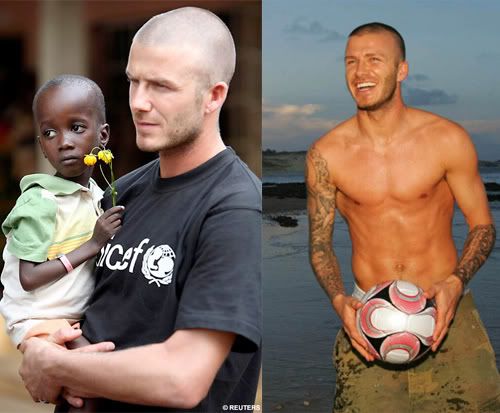 Despite David Beckham being expected to host a charity dinner for cystic fibrosis sufferers at the Dorchester Hotel in London last night, his camp claimed that he was called back for pre-season training by the LA Galaxy once the club knew of his omission from the England team. Makes sense.
David sent his apologies via a video message.
My personal opinion is he was too hurt to go out in such a public arena, every one has a bad day and I guess he just could not face it.
The Galaxy season starts in April, we are in February. I am not sure how the US system works but in the UK pre-season training is usually 8-6 weeks before the season, so he is returning about the right time.
The thing that is annoying me is that people are suggesting that the reason he was left out of the England squad was because of his recent trips to Sierra Leone and Brazil. Commentators are asking why both trips were not put off until after the game on the 6 February.
He tries to help others less fortunate than himself and gets accused of not focusing on football, what a joke.
Poor guy.
Source