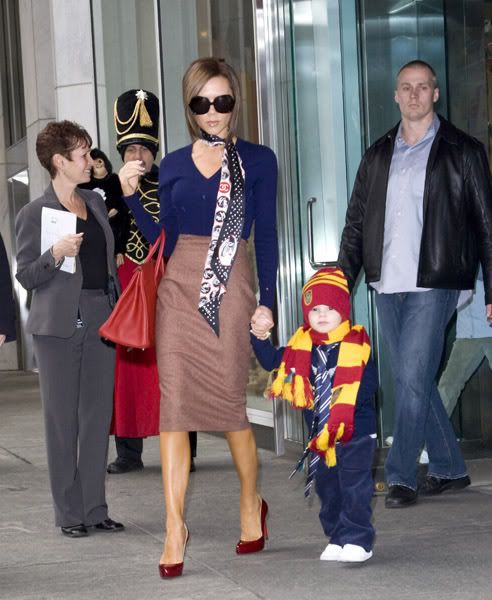 The News Of The World has reported that David has had another tattoo done.
The tattoo is apparently a present for his wife for Valentine's Day.
The tattoo is apparently on his arm as a tribute to his wife... in the form of a black rose.
It will be tattoo #12.
A NOTW source said:
"The rose is another tribute to Victoria. She'll be shocked but pleased when she finds out."
I will not believe this story until I see the photo, as the NOTW tend to make up stories.
The cute pictures are of Victoria Beckham and Cruz out shopping at FAO Schwartz in New York City on Saturday.
From there they went to
Dylan's Candy Bar
, where they bought a gumball machine, Gummy Army Men, Gummy Mini Frogs, Mini Gummy Bears, Starburst – and a special treat for Cruz: Ouch Bubble Gum Band-Aids.
"Victoria was laughing at her son's reaction to the candy and store in general,"
says a rep for the emporium, which is owned by Ralph Lauren's daughter, Dylan Lauren.
"A sales associate gave them samples of candy, and she was joking and giggling about his facial expressions."
No doubt Cruz was picking out his birthday presents, as he will be 3 years old on 20th February.
Victoria looks gorgeous wearing a
Marc Jacobs
navy sweater,
Chanel
scarf, tweed pencil skirt and red
Hermes Birkin
bag.
Cruz is so cute in his hat, scarf and tie.
Source
&
Source
&
Source