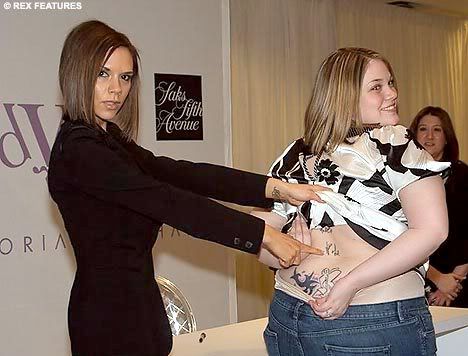 Loyal reader Abby attended Victoria Beckham's signing on Friday, here is her fantastic experience with Mrs Beckham.
Victoria was scheduled to be at Saks from 12-1pm. If you purchased a pair of DVB jeans or sunglasses you were moved to the front of the line, that was the only guarantee to see her.
Those 'fans' received a Polaroid picture with Victoria. (lucky them)
I was in line until 1pm then the PR announced Victoria would stay for 30 mins more - thank goodness.
I got in at 1.05pm then Victoria's PR announced she was not taking any more photos nor could the fans take their own : (
But she did sign my U.K version of
'That Extra Half an Inch'
and was very polite.
Victoria even laughed when I asked her if she was for "Obama", which she could not answer, said
"She was not up American politics yet"
, then laughed again.
Love, love, love Victoria. Not only for being so kind enough to take an extra 30 mins out of her busy schedule to meet fans, but also for her hilarious personality. Thanks for sharing Abby.
The photo above is of a fan who had a Victoria's autograph tattooed on her back....ouch.
Prior to her in-store signing at
Saks Fifth Avenue Chicago
Victoria Beckham had an interview with the
Chicago Sun Times
.
Here it is:
Q. Why did you decide to launch a denim line?
A. I've always collected denim and I could never find a pair of jeans that fit me particularly well. As a woman you want something that fits relatively tight on the leg but big enough on the waist. These are incredibly simple and basic -- you can wear them with flip-flops or heels.
Q. What about sunglasses?
A. I love sunglasses. If you have the right pair of sunglasses, you can make even the simplest outfit look very cool. I wear them all the time. But it's mostly because I'm up all night with my children, and they can hide a multitude of sins.

Q. Do you have any favorite items in the line?
A. I like all the big sunglasses. My favorites at the moment are the red aviators. In the jeans, my favorite is the skinny flare -- it's skinny on the leg and then it juts out into a big flare. For me it's a very progressive style.

Q. What can people expect at the autograph signing?
A. I'm just hoping to meet as many of my fans as I can. I will be there for as long as it takes to sign everything.
Q. What's playing on your iPod?
A. A better question is what's NOT playing on my iPod. Cruz has hid my iPod and I can't find it. But normally Mary J. Blige, Keyshia Cole and old Madonna from "The Immaculate Collection."


Q. Do you have a favorite TV show?
A. "Project Runway" [Beckham just served as a guest judge for the finale] -- because it shows people how hard you have to work to be a designer. Also: "Marc Jacobs & Louis Vuitton," a Sundance Channel documentary.
Q. What do you think about Chicago?
A. From what I understand, Chicago is a very fashion-conscious place. I also hear it's very cold.

Q. Have you read anything good lately?
A. I'm not reading anything right now because I'm so busy with the Spice Girls. Normally I'd go see a lot of the shows during Fashion Week, so now I'm on the Internet on style.com a lot checking them out.

Q. How do you compare living in the United States to England?
A. I love America. Myself and David have always said we love how patriotic people are here. It's a great place to bring up children, and I can't see us leaving at any point in the near future. It's our home now.
Source
& a big thanks to Adam B for the exclusive photos and Abby for sharing her experience.