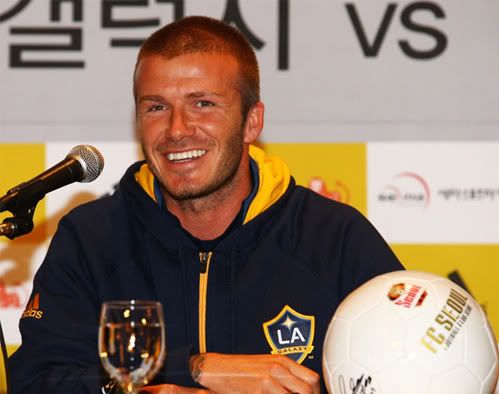 David Beckham acknowledged he isn't in good enough shape to make his 100th international appearance for England.
"I would love to reach the hundred caps, but I have to be physically ready to be part of the team,"
Beckham told a packed news conference in Seoul on Wednesday.
Beckham arrived Tuesday with the Los Angeles Galaxy. The Galaxy begin a three-match Asian tour against FC Seoul on Saturday. They play Shanghai, China, on March 5 and Hong Kong on March 9.
Late last month, Beckham was denied his 100th national team appearance by England's new coach Fabio Capello, who thought the Galaxy midfielder was not in top shape. Beckham had not played a competitive match since November.
"I played under Fabio Capello before, you know,"
said Beckham,
"He is a great manager and a good person," Beckham said. "He is a manager that I understand well and he is a manager that also I've said before that will pick players if he believes they are fit enough."

"And with me playing no games, you know, it was only right that there are other players that played many games,"
he said.
Source
&
Source